JOYCE WILLIAMS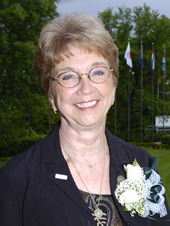 Below is an abridged list of Joyce's accomplishments throughout the course of being a Volunteer and TWIG member with Children's Hospital and the Memorial Tournament:
In 1974, became a charter member of State Wide (outside of Franklin County) TWIG #3 (Together With Important Goals). The mission of each TWIG is to raise funds so that no child goes without medical care regardless of his/her parent's ability to pay. Worked within this TWIG for four years.
1976, Volunteered for the first Memorial Tournament in Souvenirs.
November, 1977, Joyce formed State Wide TWIG #8 in her hometown of Waldo, Ohio. The core members of that TWIG have been volunteering in concessions for 28 years.
Mid 1980's the above core members were asked to become Stand Captains at Stand # 13, followed by Stand # 15, Stand # 6 and ultimately to Stand Captain at the Main Pavilion with Dorothy Campbell.
1995 & 1996, Assistant Concession Chair for the Women's Division Committee.
1997 & 1998, Concession Chair.
1999, Chair-Elect for the Women's Division Committee.
2000, Chair of the Women's Division Committee (25th playing of the Memorial Tournament, as well as her 25th year as a volunteer).
2001-Present, Volunteer as a Stand Captain in the Main Pavilion with Dorothy Campbell, Judy Torri, Jan Tangeman, and Betty Vance.
About the Award
Volunteers are at the heart of the Memorial Tournament's dedication to the Memorial Tournament Neonatal Intensive Care Unit (NICU) at Nationwide Children's Hospital. Every year thousands of volunteers share their passion for helping others by giving their time and talents to the success of the Tournament.
More than thirty Nationwide Children's Hospital Auxilians serve on the the Memorial Tournament Volunteer Committee, benefiting Nationwide Children's Hospital. They are responsible for recruiting, scheduling and managing volunteers throughout the Tournament. This dedicated committee, representing the Memorial Tournament and Nationwide Children's Hospital, works to ensure professionalism from all Tournament volunteers.
For every hour worked by one of the volunteers of the Memorial Tournament Volunteer Committee, a donation is made to the Memorial Tournament NICU. It is in recognition of these selfless men and women that the Tournament annually honors an individual as the Volunteer of the Year.
The program began in 2003 and has since celebrated a recipient of the coveted award each year.
The Memorial Tournament Volunteer Committee kicks off the nomination process each year by requesting that each of the 15 committees recommend potential candidates. From those recommendations the top three candidates are chosen and voted on by a select committee of Tournament Officials. The Volunteer of the year is formally announced each May just prior to the start of Tournament week.
The Memorial's Volunteer of the Year award is supported by: