SUE FRANK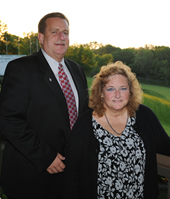 Sue Frank began volunteering for the Memorial Tournament in 2002 on the Courtesy Cars committee. She worked a few shifts and by the end of the week was asking if she could volunteer for more. Today Sue is disappointed if she's not scheduled for each of the 10 days Courtesy Cars is up and running.
Over the last several years, Sue has been counted upon as a captain within the committee and is considered invaluable by the team of volunteers with whom she works. Sue is trustworthy, professional and very approachable, which is critical in her role interacting with Tournament guests, including players.
For several years, Sue has also contributed to the Tournament's efforts by selling the limited edition bears for the Memorial's Bears for Children's campaign. In 2008, Sue was honored for selling the most Bears (77) and donated the prize money she earned back to Nationwide Children's Hospital.
Sue is a fantastic representative of the thousands of volunteers of the Memorial Tournament and as such was honored as the 2010 Volunteer of the Year.
About the Award
Volunteers are at the heart of the Memorial Tournament's dedication to the Memorial Tournament Neonatal Intensive Care Unit (NICU) at Nationwide Children's Hospital. Every year thousands of volunteers share their passion for helping others by giving their time and talents to the success of the Tournament.
More than thirty Nationwide Children's Hospital Auxilians serve on the the Memorial Tournament Volunteer Committee, benefiting Nationwide Children's Hospital. They are responsible for recruiting, scheduling and managing volunteers throughout the Tournament. This dedicated committee, representing the Memorial Tournament and Nationwide Children's Hospital, works to ensure professionalism from all Tournament volunteers.
For every hour worked by one of the volunteers of the Memorial Tournament Volunteer Committee, a donation is made to the Memorial Tournament NICU. It is in recognition of these selfless men and women that the Tournament annually honors an individual as the Volunteer of the Year.
The program began in 2003 and has since celebrated a recipient of the coveted award each year.
The Memorial Tournament Volunteer Committee kicks off the nomination process each year by requesting that each of the 15 committees recommend potential candidates. From those recommendations the top three candidates are chosen and voted on by a select committee of Tournament Officials. The Volunteer of the year is formally announced each May just prior to the start of Tournament week.
The Memorial's Volunteer of the Year award is supported by: